1 or 2 Tubes of Toothpaste, 4oz
Flavor Profile Peppermint
Peroxide-Free. Pain-Free. Pepperminty. Forget everything you know (and don't like) about whitening toothpaste. We ditched peroxide, the main culprit of aggravation and discomfort in conventional whitening toothpastes, in favor of gentle ingredients that brighten and whiten, naturally. Baking soda dissolves surface stains, coconut oil gradually brightens while moisturizing and soothing gums and mouth, and nano-Hydroxyapatite restores teeth to their natural whiteness. It's even safe for sensitive teeth. Invigorating Refresh Mint flavor packs a pepperminty punch – the perfect match to your mint-condition smile!
Soothing aloe vera

Bacteria-fighting xylitol
Antioxidant-rich green tea
View full details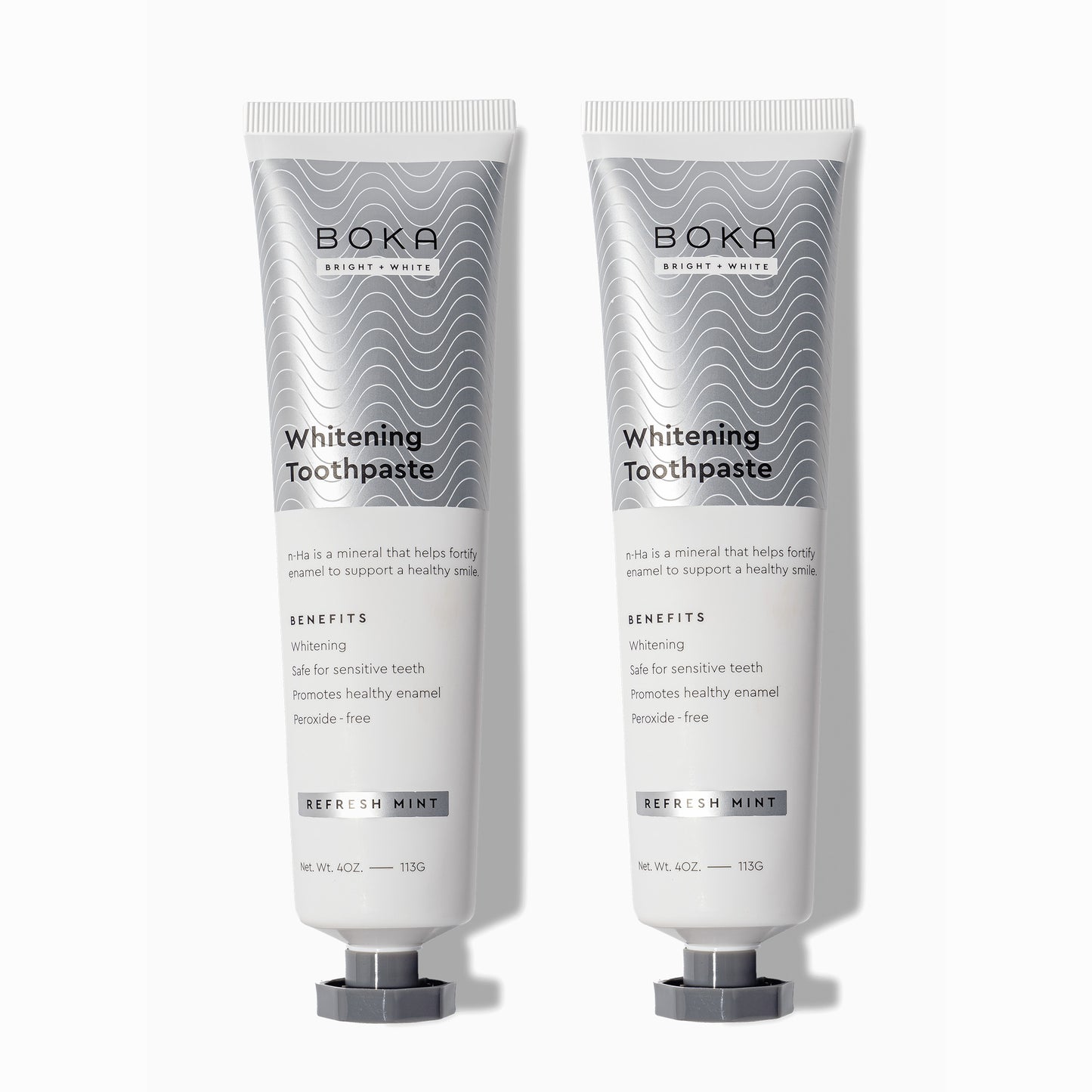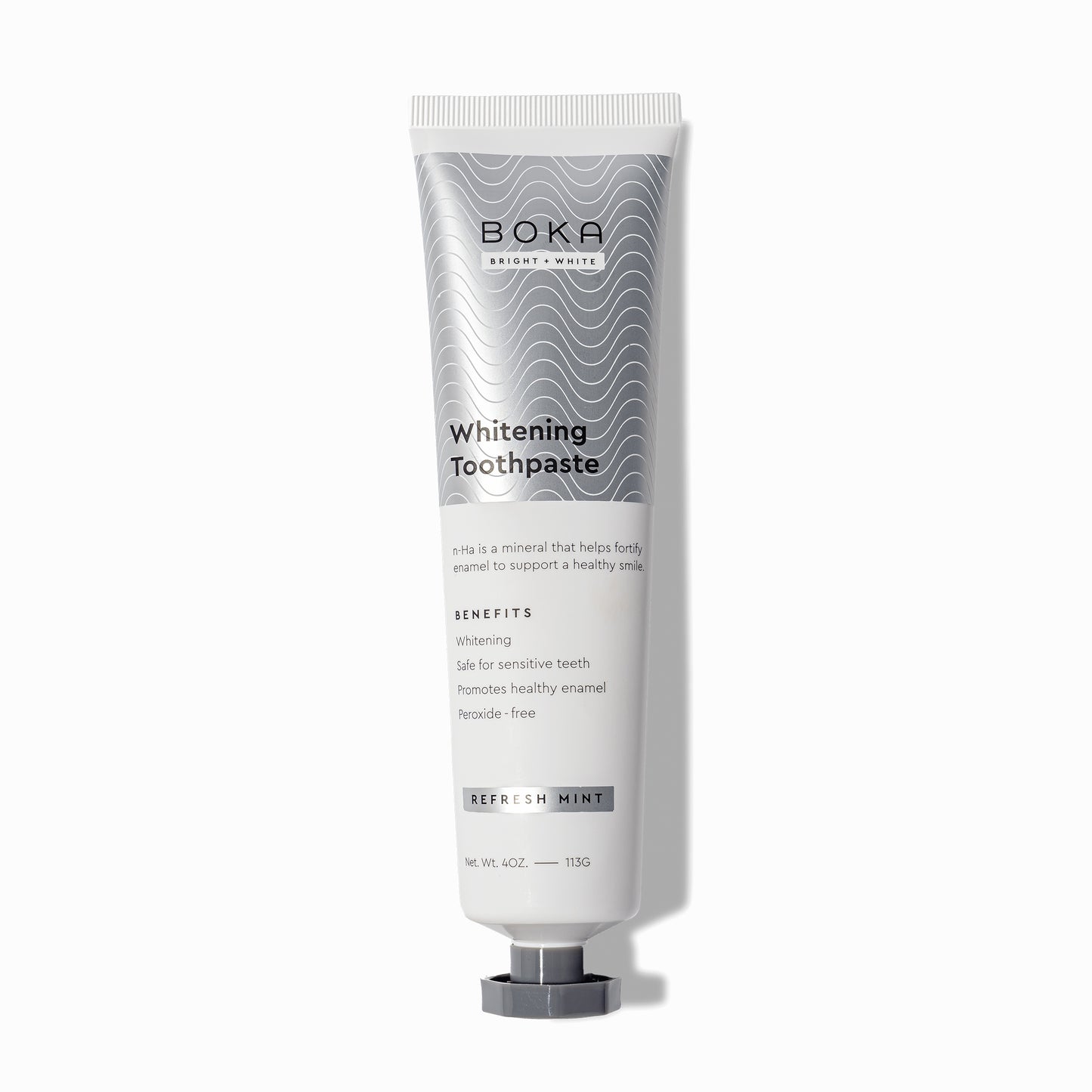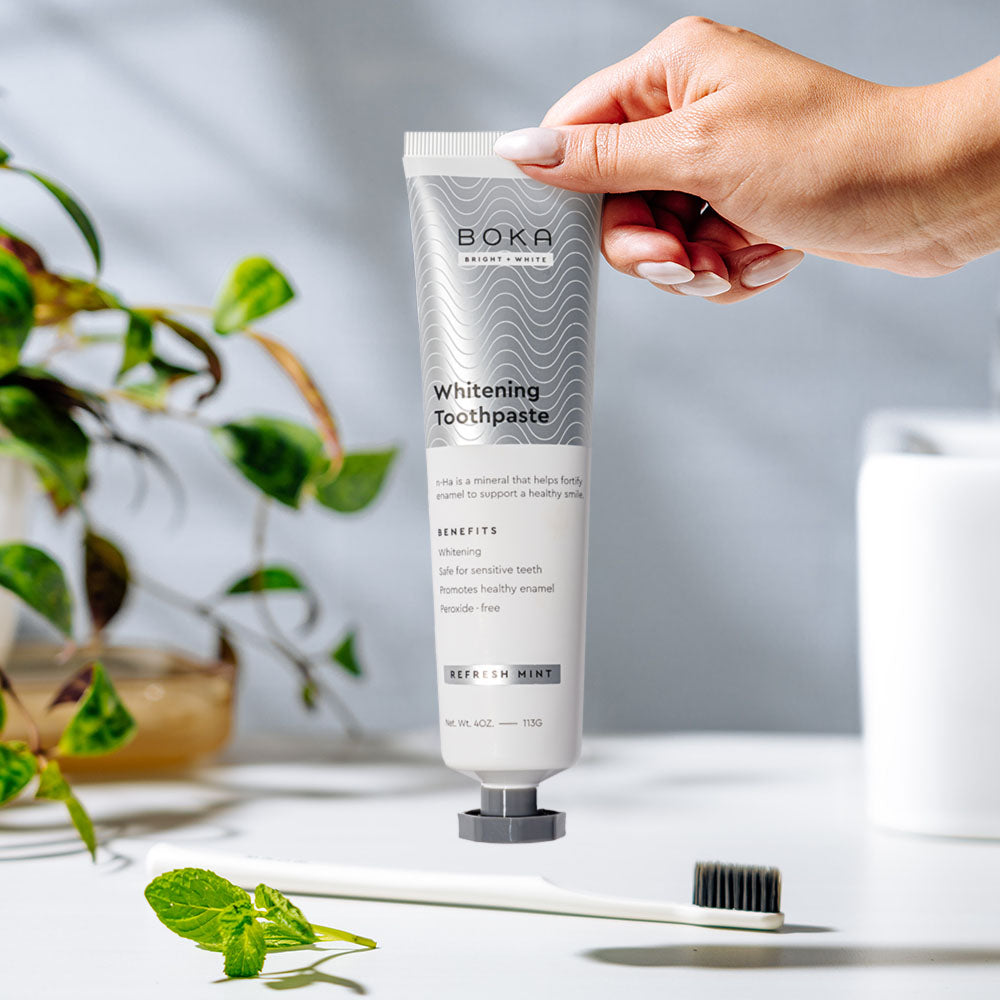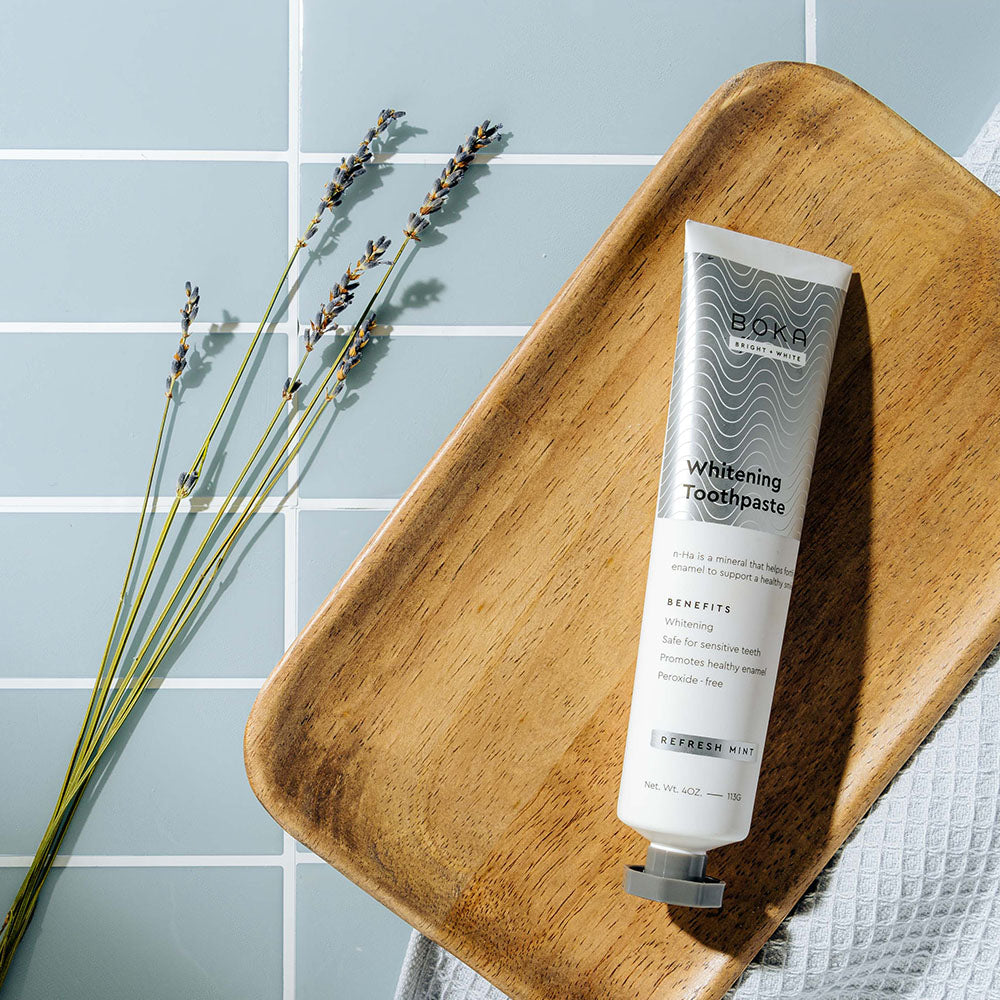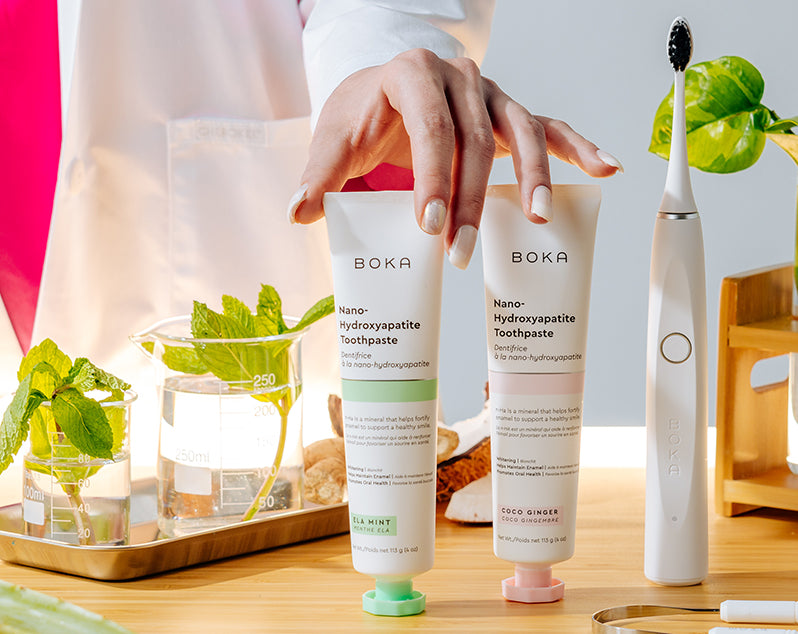 The power of n-Ha
Nano-hydroxyapatite (n-Ha) is a form of calcium that makes up 97% of your tooth enamel and 70% of your dentin. Because it comprises the primary foundation of teeth and bones, it's naturally restorative for your smile.
First used by NASA astronauts in space, n-Ha rebuilds teeth without the toxins found in fluoride, making it safe to swallow. (And if it's good enough for space missions, it's good enough for us.)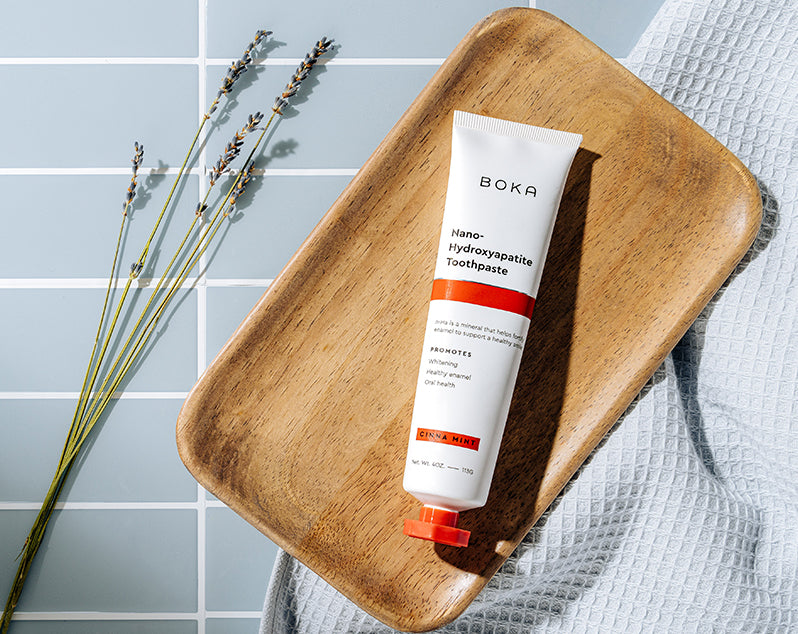 Our Science
Boka Toothpaste is unlike any other toothpaste, by design. It trades fluoride for nano-hydroxyapatite (n-Ha), an evolution in dentistry that's been a gold standard in Japan for over 40-years. n-Ha makes up the primary foundation of teeth and bones, meaning it's naturally restorative and helpful in reducing sensitivity. Plus, it's 100% biocompatible and non-toxic. We complement this powerful ingredient with soothing aloe vera, bacteria-fighting xylitol, antioxidant-rich green tea and refreshing mint. It's our way to address the "silent epidemic" in healthcare.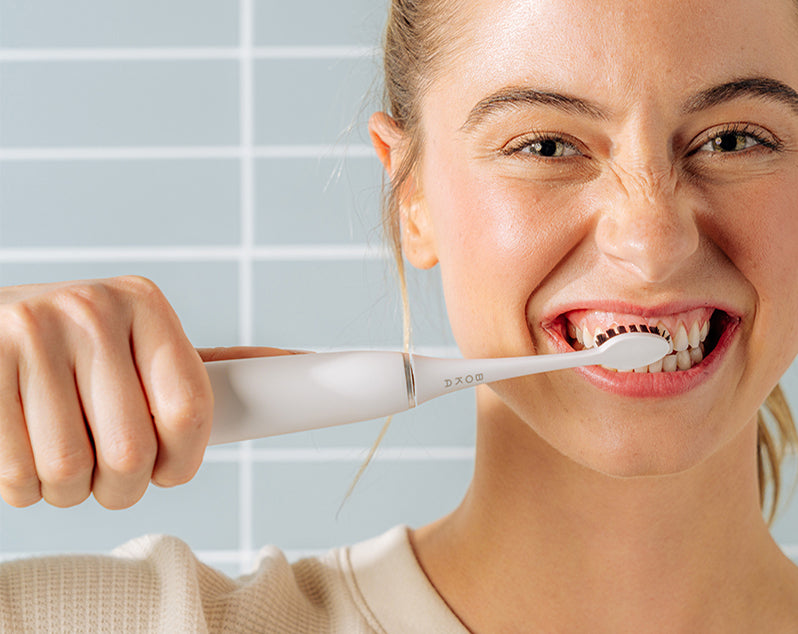 Cinna Mint Toothpaste - Loved by many, many mouths.